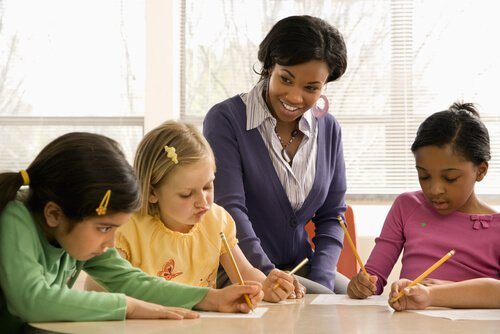 10 Great Reasons Why You Should Choose A Career In Schools
The amazing folks over at the American Speech-Language-Hearing Association (ASHA.org) have put together a fantastic list on why now is the time to choose a career in schools. Whether you're a Speech Language Pathologist, Occupational Therapist, School Nurse, School Psychologist or Special Education Teacher, there are limitless opportunities for you in a school setting. See the list below!
10. Wide Variety of Opportunities
Work with students with diverse backgrounds in preschool, elementary and middle/high school settings
Choose where you want to live, whether it be in an urban, rural or suburban area
Gain the opportunity to help students with differing disorders in a variety of different ways. (Individual basis, small groups or in classrooms
9. High Demand for SLPs in Schools
Become a part of one of the fastest growing settings
8. Job Security and Excellent Benefits
Take advantage of competitive health, leave and retirement programs
Enjoy comprehensive benefits packages
7. Favorable Schedules
Enjoy family friendly work schedules
Receive paid holidays, breaks and summer vacations
Explore opportunities for part-time work and job sharing
6. Competitive Salaries
Reap rewards for advanced credits, degrees or the ASHA Certificate of Clinical Competence (CCC)
Benefit from salary supplement, sign-on bonus, tuition reimbursement, loan forgiveness and relocation expenses
Gain extra income for summer or after-school programs
5. Work As A Professional Team Member
Collaborate with other like-minded professionals, including: Speech Language Pathologists, teachers, school nurses, occupational therapists & physical therapists, school psychologists and special education teachers
4. Ongoing Professional Development
Advance your professional knowledge with Free CEUs
Learn about school-related topics
Share your expertise with others
3. Variety of Career Options
Develop your specialization in learn new skills
Participate in research opportunities
2. Opportunity for Creativity
Develop new approaches, techniques and materials
Create unique programs to meet student needs
Experience new models of service delivery and other new school initiatives
1. A Life-Long Career
Unlock a student's potential!
Contribute to a student's personal, academic social and vocational growth
Develop long-term relationships with students, families and colleagues
Want to learn more about school opportunities? Click here!