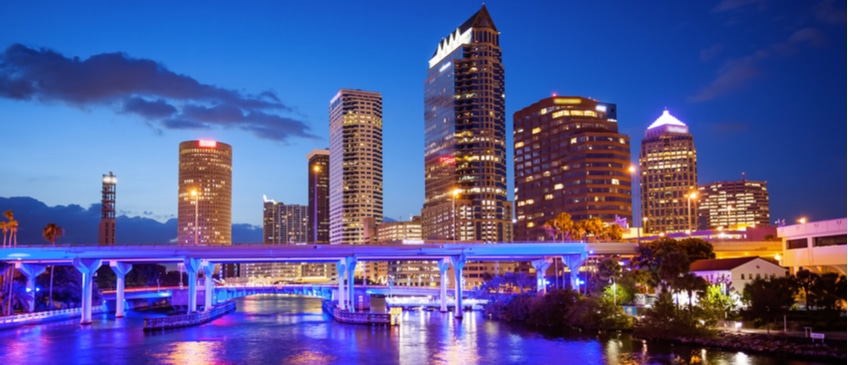 Exploring Tampa as a Travel Nurse or Therapist
If you're traveling to Tampa on your next travel nursing or therapist assignment, you're in for an adventure! Regardless of how long you're staying, you definitely won't get bored exploring this charming city. Try taking out time from your busy schedule to check out these five favorite attractions you can't miss in the Tampa, FL area.
Busch Gardens
This world-class amusement park spans almost 300 acres and features more than 12,000 attractions, rides, games, and live shows. From live animal exhibits to themed areas based on nations of the world, you'll find that this park offers an ideal blend of education and entertainment for groups of all ages.
Tampa Theatre
Built in 1926, this historic structure is a gorgeous example of period architecture. You can stop by to catch a movie or a show in this iconic setting or opt for the 90-minute backstage tour where you can see the theater's 900-pipe Wurlitzer organ. The Tampa Theatre is listed on the National Register of Historic Places.
Florida Aquarium
Conveniently located in downtown Tampa, the Florida Aquarium features more than 20,000 aquatic animals and plants. Exhibits include polar bears, penguins, sharks, alligators, and otters. Kids will also enjoy the outdoor play zone that features a water slide and splash park.
Henry B. Plant Museum
This collection is located inside a historic hotel on the campus of the University of Tampa. Step into the gilded age of Florida's history with art and artifacts that highlight this unique period. The hotel, once owned by railroad magnate Henry B. Plant, features rooms restored to their original Victorian splendor.
Ybor City
This neighborhood in Tampa gives you a chance to experience the area's vibrant nightlife, with a mishmash of clubs, bars, and music venues. During the day, you can enjoy authentic Cuban delicacies as well as the hand-rolled cigars that once dominated neighborhood commerce.
When you're not at work saving lives, take a bit to enjoy the livelihood that Tampa has to offer. Any of these five activities are great ways to de-stress and experience the culture surrounding you. If you're a travel nurse or therapist looking to relocate to Tampa or wanting to start a new adventure in the U.S., contact Ardor Health Solutions today. We specialize in finding your perfect healthcare fit in a variety of places across the nation. Call us at (855) GO-ARDOR to learn more.