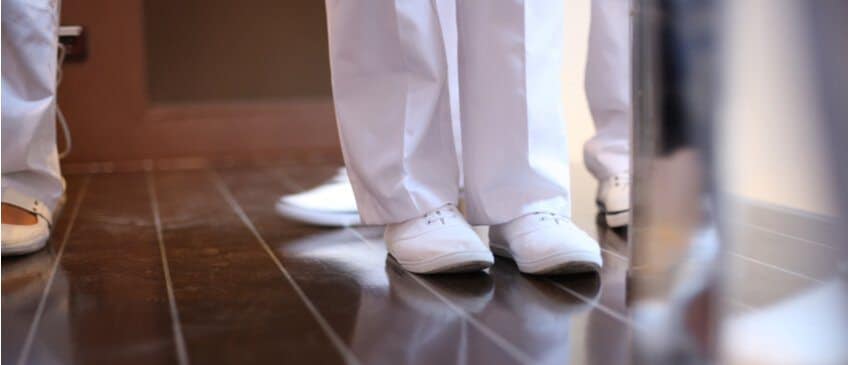 Finding the Best Nursing Shoes
Nurses are one of many professionals whose job requires them to be on their feet for an extended period of time. A 2006 study published in MEDSURG Nursing concluded that the average nurse walks 4-5 miles during a 12-hour shift while most Americans walk up to 3 miles in an average 18-hour day. For the amount of time they spend on their feet alone, the type of shoes a nurse wears is crucial. Not only must they be comfortable, but they also need to be safe for the work environment. We have highlighted what you should consider when finding the best nursing shoe.
Outsole
The term outsole refers to the bottom of the shoe. For safety purposes, you should look for a non-slip outsole that is made up of a razor cut or durable rubber, or a combination of both. This will help you maintain traction in the most slippery conditions. Generally, outsoles made of soft rubber will effectively stick to greasy and wet surfaces, but tend to wither away when worn on other surfaces. The most efficient outsoles are the ones that are reinforced with either an extra layer or sidewalls.
Midsole
The midsole is the material between the outsole and the upper of the shoe. Ethyl vinyl acetate or EVA midsoles are most commonly used in nursing footwear. This provides added comfort and is a shock resistant layer that decreases the impact of every step. Be sure to try your nursing shoes on before you purchase them. A midsole that is too thick may leave you feeling out of contact with the ground.
Insole
The insole or sockliner is the insert located inside the upper of the shoe. Your insole will offer added cushion, stability, and moisture absorption. Look for one that offers arch support and concaves a little in the front and back of the shoe. Your insole should also be removable and washed regularly.
Uppers
The upper is the part of the shoe that covers your foot and is often the most ignored by nurses. A large majority of nursing shoes offer a tough leather upper. This material puts up a strong resistance to abrasion and provides increased durability. Another option to consider is a mesh upper. Mesh uppers offer breathability like no other, which allows your feet to feel less restricted and compliments the moisture absorption feature of your insoles.
There also a few extra features you can take into consideration when purchasing nursing shoes including added straps, and tongue padding. What should remain consistent throughout all of the shoes you try on is that they are your size and allow wiggle room for your toes.
Choice of footwear is important for all nurses, whether you have cared for patients for decades or are just getting started. For a profession that requires you to walk several miles a day, it is crucial that your shoes are most accommodating. Are you in search of a healthcare position that makes the most of your abilities? Allow Ardor Health Solutions to help you find the healthcare position that best fits your skills and experience. Visit our job listings page to discover healthcare careers across the U.S.