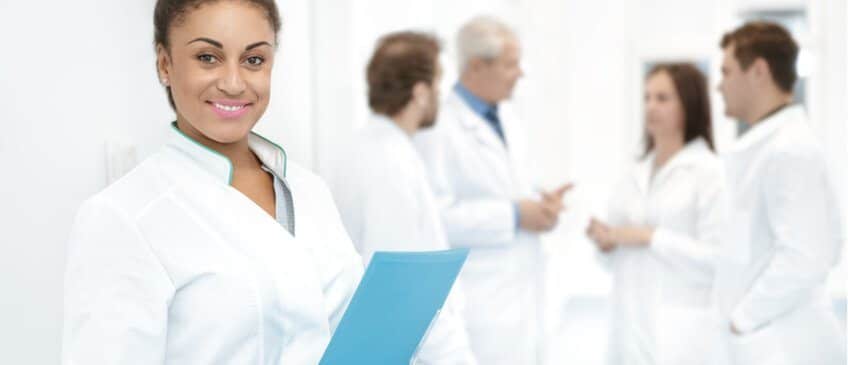 How to Improve Communication with Coworkers
One of the most difficult parts of working as a traveling health practitioner is switching between coworkers so often. Add this to the fact that some hospitals have employees who have less than favorable opinions about traveling nurses or therapists, and you can find it difficult communicating with your coworkers. Not all hope is lost, you can get in touch and connect with the people you work with even if you're going to be flying away soon. Better communication means a more efficient workplace environment, happier clients, and a happier you. 
Watch Body Language
Your body language often says more than words can. Even if you say everything with the right tone and language, people can pick up on signals that don't match with what you have to say. This can lead to a loss of credibility. Pay attention to impulses that may lead you to slouch, avoiding eye contact, or sighing in the middle of speaking. In a hospital this is especially important, as you often have to make a difficult decision and make a case for your choice on the spot.
Avoid Hearing, Start Listening
While it can be easy to get in the habit of smiling and nodding whenever someone starts talking, other people will soon notice that you're not really listening to them. Don't feel too bad, most people usually don't know they need to put in the time to develop active listening skills. Those who do though greatly benefit. When you make conscious, vocal answers or rephrase what a coworker is saying, you show that you are not only listening but making an honest attempt to see from their point of view. This helps you get on better terms with your coworkers as they notice that you care about what they have to say.
Balance Your Formalities
When people share the same space for a long time, it's natural that you start feeling more comfortable around each other. Office gossip, talk about weekend plans, and throwing in a lame joke or two are common in the workplace. This does not mean you should completely gain confidence. If you have a dedicated office email or phone number, remember to stick with your practiced professional language. If you are in a meeting with your superiors, don't test your luck by pushing formal boundaries. Going too far can make your coworkers view you as unprofessional.
Watch your Tone
In a face-to-face conversation, your tone should remain conversational. If you feel as if you are too overwhelmed by emotion or stress due to a difficult day at the clinic, there's no harm in excusing yourself so you can unwind. When communicating with your coworkers through writing, be particularly careful about how your words may be interpreted. What can come off as a joke to one person may seem rude or angry to another. Adopt the "better safe than sorry" rule; write to your coworkers with language that makes your statement clear and carries a neutral tone.
While some people may find traveling health work to be depressing as they don't usually stick around long enough to develop close relationships with their coworkers, traveling provides an opportunity to meet many kinds of people. Getting along with your coworkers means you learn new perspectives and techniques on how to carry out your work, and they can give you some great local tips on where to spend your time during rest days! If you're looking for a new place to work in your traveling health career, check out our list of openings or call 855-GO-ARDOR.