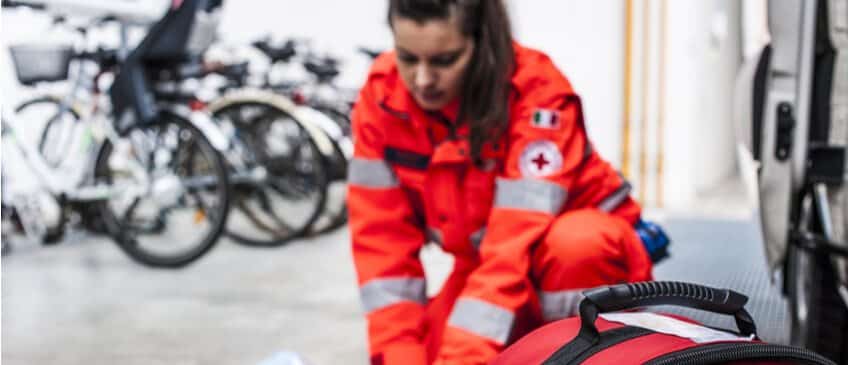 A Nurse's Role in Natural Disaster Recovery
When disaster strikes, the public expects first responders, nurses, and other health experts to drive into the scene right away and treat the injured. This expectation is natural; a nurse's care is considered an ethical duty as outlined by Provision 2 of the ANA Code of Ethics for Nurses, stating "the nurse's primary commitment is to the patient."
At the same time, Provision 5 within the same document claims that the nurse owes the same duty to him or herself as to others. In other words, the health and care of the nurse – the person – is just as important as the patient. After all, a nurse who is injured or ill is unable to provide adequate care. This dilemma is only one of the many difficult questions facing healthcare professionals today when faced with an emergency situation. What exactly is a nurse's primary role during a disaster? How can a nurse balance priorities?
Complications in Disaster Recovery
After a natural disaster like a hurricane strikes, the community often faces an unprecedented amount of structural damage. Such damage – like broken power lines – can make it difficult for general facilities like hospitals to remain open and meet the community's needs. Already, an essential resource for most nurses is suddenly unavailable. Add to this the fact that nurses are given patient assignments in areas outside of their comfort zone, and a whole new array of questions crop up:
How does the nurse get to the site safely?

Is there an exposure risk to certain diseases?

Will there be security?

Does the nurse have family members who are affected by the disaster?

Are local laws forcing the nurse to work? If so, are these laws in the nurse's best interest?
Complicated questions like these will be answered differently by individual registered nurses. While the medical community is still debating how to best approach complications, many agree the most important factor is setting clear policies that establish the expectations of the nurse, employer, and government.
Preparedness for Disaster Recovery
Just as the general public expects nurses to take care of them after a natural disaster, many nurses also expect their employer and local government services to have definite plans for possible scenarios. Such procedures include the provisions of adequate protective equipment, security, and immunizations. A nurse is not an emergency responder; the two roles have different expectations. If the nurse is expected to act as part of an emergency response team, the employer must make that clear. Under Provision 8 of the Nurse's Code, a nurse is expected to "stress human rights under all conditions, with particular attention to preserving the human rights of vulnerable groups such as women, children, the elderly, prisoners, refugees and socially stigmatized groups." When the nurse is unable to provide that attention due to logistic issues that could have been avoided, everyone suffers.
Natural disasters are an inevitability. The essential factor that separates a devastating natural disaster from a mild one is the level of preparedness within the community. As a registered nurse, you can make a difference in treating and helping those around you. Find your next job as a registered nurse through Ardor Health's online job listing, or call 866-425-5768.