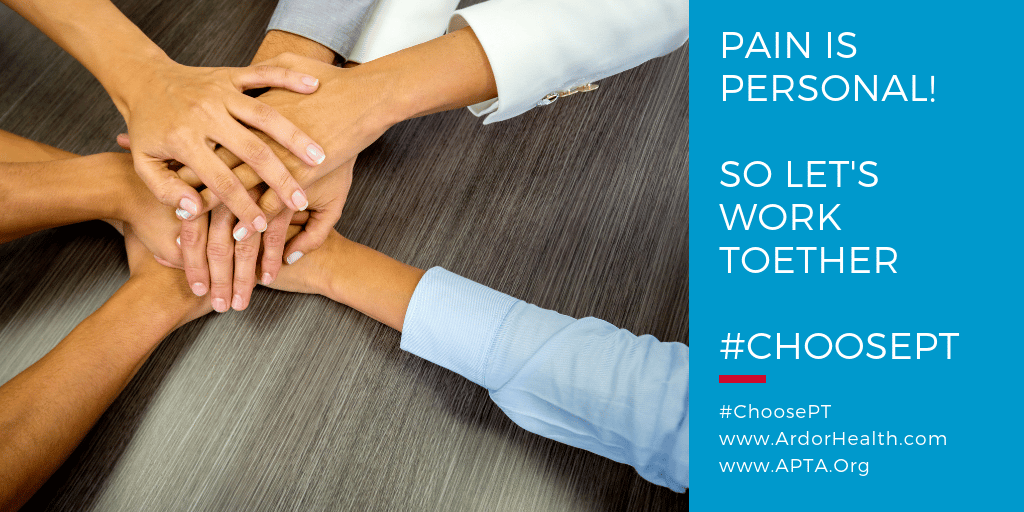 Let's Celebrate Physical Therapy Month!
It's finally here! October is one of the busiest times of the year. October is Breast Cancer Awareness Month, of course there's Halloween, but October is also National Physical Therapy Month! This month, we take the time to celebrate the amazing achievements of all of the Physical Therapists and Physical Therapist Assistants out there.  The American Physical Therapy Association uses the month of October to reinforce the use of Physical Therapy as an alternative to the use of potentially dangerous medications to improve people's lives.   
#ChoosePT
Whenever you use social media this month to talk about Physical Therapy, make sure you use the hashtag #ChoosePT
This hashtag is used to empower people around the globe to consider Physical Therapy instead of medications.
"Americans continue to be prescribed and to misuse opioids at alarming rates. This October, APTA will carry on raising awareness of physical therapy as a safe and effective alternative to opioids for treatment of chronic pain conditions via its award-winning #ChoosePT campaign."
-APTA.org
2018 PT Day of Service
Consider celebrating NPTM by participating in the 2018 PT Day of Service that takes place on Saturday, October 13. APTA is a proud partner of PT Day of Service, a global event founded by physical therapists in 2015. Whether you are hosting an NPTM event, volunteering at a pro bono clinic, or serving the community by cleaning up a park, you'll be joining with PTs, PTAs, and students of physical therapy across the world who are actively making a difference in their communities on or around that day.
Want to look into a travel PT job? We've got you covered! Head over to our traveler page to get started!