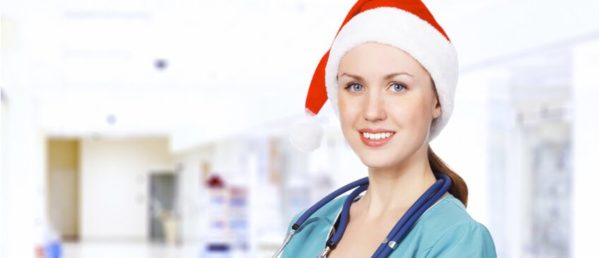 Tips for Surviving the Holidays as a Travel Nurse
Travel nurses often feel torn about working away from their families during the holiday season. Being away from loved ones can cause the most "wonderful time of the year" to feel a little gloomy. Don't let being away on a travel assignment strip you of your holiday cheer. With these tips, you can make the most of your holiday season while you are on duty.  
Create New Traditions
Although you will not be surrounded by your loved ones over the holidays, you can create new traditions with your coworkers and any friends you have made along the way. Plan activities and dinners to keep you socially engaged. By taking time to bond with others in a similar situation, you can feel supported and less isolated. The holidays are a time to celebrate and enjoy your time with the people around you, so turn on some holiday tunes, put up some decorations, and look forward to establishing new traditions.  
Shop til you Drop
Keeping busy by purchasing gifts for your family and friends is another way to survive the holidays. Shopping keeps you surrounded by others who are taking advantage of what the holidays have to offer. Holiday shopping is universal, so no matter what city you're in, you won't be the only one enjoying great sales, colorful decorations, and lively music! Need gifting ideas? Taking the time to purchase gifts relating to your new city is an excellent way for family and friends to appreciate and celebrate your accomplishments.
Avoid Social Media
Seeing what your friends are up to through social media is a common pastime these days. During the holidays, this could be something you might want to avoid. People tend to surf through social media during down time, usually when they are alone. This can exacerbate feelings of loneliness and homesickness. Taking a break from social media can be good for your mental health, especially at this time of year.
Video Connect With Friends and Family
Arranging communication as often as possible with your loved ones is especially valuable during the holidays. Technology allows us to experience the luxury of a video call. Give your family the gift of your presence during a video call while they open the gifts you sent them. This way, you won't miss a single smile or gasp. This is especially fun when you have children!
Build Connections With Your Work Family
Keeping a close connection with your work family is another great way to fill in the gap during the holidays. The odds are that they also lack family presence during this time. Spruce up the work environment with decorations, plan dinners and Secret Santas. Don't let work and being away from family be a Scrooge on your holiday.
A traveling nurse during the holidays has many things to be thankful for and celebrate even though they may be away from those they love. Working in a city that fulfills your needs is a great way to starting the year right. At Ardor Health Services, we have many job listings that will help you find the professional healthcare job that works for you.