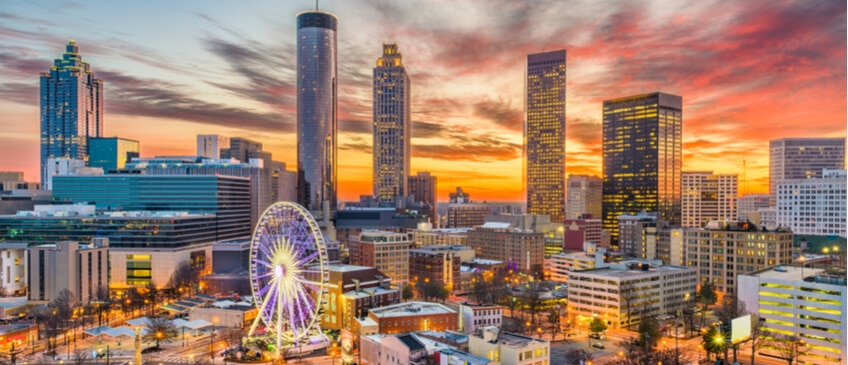 Top 5 Things to do in Atlanta
Atlanta's southern and cosmopolitan atmosphere attracts many who are looking to relocate. It boasts both exciting nightlife and family-oriented activities, making it an ideal location for any travel nurse. When you're not at work saving lives, try to find the time to visit some of these iconic and beautiful places and fall in love with Atlanta.
Piedmont Park
If you're looking for a place to spend a lazy afternoon, Piedmont Park is your place. Boasting over 200 acres, Piedmont Park offers visitors many different activities. There are paths for walking or jogging, playgrounds, dog parks, a swimming pool, and tennis courts – all available to the public. It's also home to many events throughout the year such as Atlanta Pride and the Atlanta Jazz Festival.
Atlanta History Center
The Atlanta History Center gives visitors and locals the opportunity to learn more about Atlanta's rich past. The history center is spread across 33 acres and includes exhibits, historic homes, and beautiful gardens and paths. Visitors can easily spend two hours exploring the vast property and taking pictures of the beautiful homes and gardens located inside.
World of Coca-Cola
The World of Coca-Cola is an ode to one of the most well-known soft drinks in the world. The two-level facility holds exhibits on Coca-Cola's history, the bottling process, and its influence on pop culture. There's even an area where visitors can taste more than 100 varieties of Coke from places like Africa, Asia, and Europe. The samples are free, so get ready for a pretty intense sugar high!
Fox Theatre
Inspired by Egyptian and Spanish architecture, the Fox Theatre is one of Atlanta's most iconic landmarks. Even if you can't catch a performance, you can still get a tour of the inside and see the ornate decorations of 10 of the theater's locations.
Georgia Aquarium
The Georgia Aquarium is the perfect place to enjoy an afternoon and get out of the Georgia heat. The aquarium has more than 100,000 animals from 700 different species, allowing visitors to learn about animals they never knew existed. If you're lucky, you may also be able to catch the aquarium's free dolphin show. The Georgia Aquarium is a sure-fire way to spend your day and make some memories along the way.
Atlanta is a cultural hub filled with many eclectic people and places. Doing any of these five things during your time off can help you de-stress and fall in love with your new city. Looking to work all over the U.S.? Contact us today to be placed in a healthcare facility perfectly suited for you.