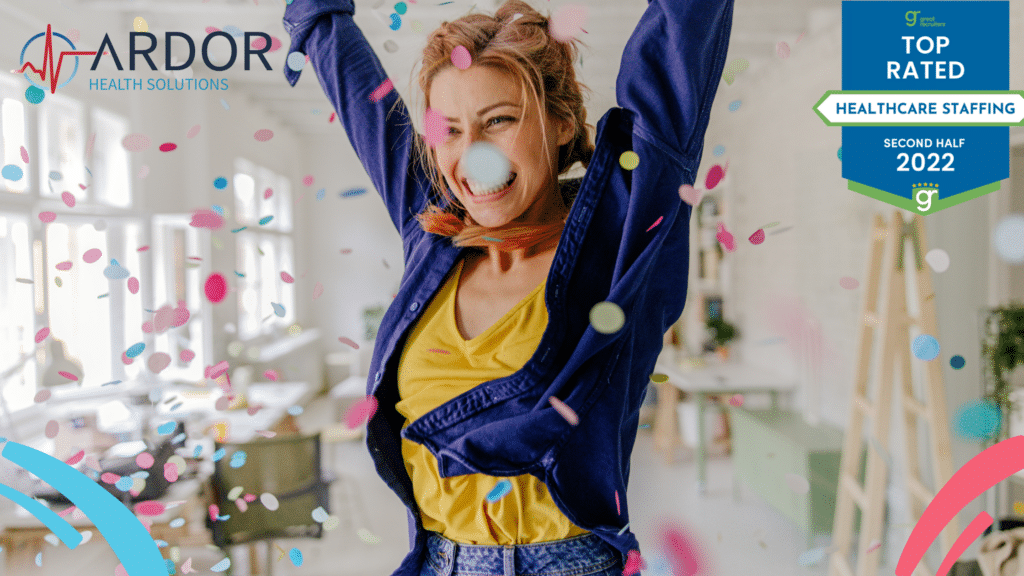 We Did It Again – Ardor Health is Great Recruiter Certified!
March 31st, 2023
Ardor Health Solutions prides itself on our service to our clinicians through Ardor's Advocates, and recognition is the highest form of reward for our whole team! For another year running, Ardor Health is honored to be named by Great Recruiters as a Top Rated Healthcare Staffing Firm. Great recruiters is a leading experience and reputation management platform that offers real-time reviews of recruiters and travel nursing companies from clinicians and healthcare facilities.
At Ardor Health, our mission can be summed up in one word. Exceptionalism. But if we're getting into more detail, our mission is: To Place Exceptional Clinicians In Positions To Provide Exceptional Care.
So How Does Ardor Health Rank?
To be considered for this certification, recruiting firms must meet a set of criteria including an average Great Recruiters rating of 4.6 out of 5 or higher. Over 200 reviews have been sent in from clinicians about Ardor's Advocates and nearly 92% would recommend working with Ardor Health!
So how did Ardor Health measure up on the 5-point scale?
Genuine: 4.88
Responsive: 4.84
Experienced: 4.82
Advisor: 4.80
Transparent: 4.81
Overall: 4.83
Don't take it from us – here are just a few reviews from our clinicians about working with our Advocates!
"Hannah is always so quick to help me! I appreciate her and the fact that she continues to check up on me while on my assignment. She's been my favorite recruiter that I've had." -Amanda E.
"Just after one conversation with Katherine, I felt as if I had known her forever. Katherine made me feel comfortable as she navigated me through the process of my first contract and she's been there since. Katherine is professional and passionate when it comes to her people skills. Katherine has been an asset to me as a recruiters, she goes above and beyond from what I've experienced!" – Tracy L.
"Kevin is very friendly and makes you feel like you just made a new friend!! His communication is amazing and keeps you updated on everything going on. He is always available to you and gets your questions answered in a timely manner. I look forward to working together with Kevin more in the future and recommending him to all my travel nurse friends! Thank you so much Kevin! -Patti E.
"Tara is awesome! I have had several recruiters over the years and she is by far the BEST!! I would most definitely highly recommend her to my nurse friends for travel jobs!! ❤️" -Anna J.
Want to read more of Ardor Health's reviews? Visit our official Great Recruiter page here: Ardor Health 's Great Recruiter Page
Want To Join the Team
If you're looking to explore any of Ardor Health's opportunities, come pay us a visit! Search Open Positions