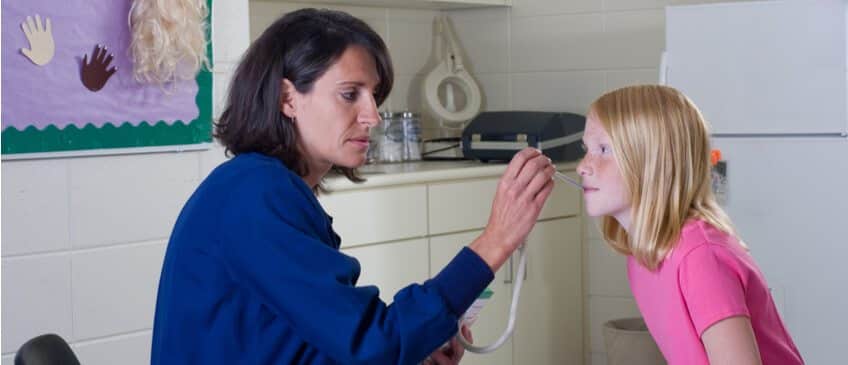 6 Nursing Careers that Go Beyond the Hospital
Often, the word "nursing" seems automatically linked with the word "hospital." For a large majority of nurses, this may be true; however, nursing isn't always confined to hospital and clinic walls. In fact, there are many career options for registered nurses that don't involve hospital care at all. For those looking for an alternative nursing career path, here are six options to consider.
School Nurse
For nurses seeking a more traditional schedule, school nursing may be the perfect option. School nurses work within the school system to treat minor student injuries, control student health and safety, conduct immunizations, and dispense medications according to doctor's instructions. School nurses also educate students on a variety of health issues and provide screening services to the student population. To be qualified for this position, candidates must have a bachelor's degree in nursing and be a registered nurse.
Home Health Nurse
As the name suggests, home health nurses work with patients in-home to provide high-quality care for individuals who may be disabled, terminally ill, or recovering from surgery or serious illness. This position entails many of the same responsibilities involved in hospital nursing, including patient assessment, wound care, and medication distribution. Home health nurses may provide short-term or long-term care and require candidates to be registered nurses.
Public Health Nurse
Public health nurses work for public institutions such as county and state health departments, correctional facilities or individual businesses. Nurses employed in these settings work to control health and safety issues and provide education on a variety of health topics. They are also responsible for administering screening tests and providing immunizations to the patient population. To be qualified for this position, individuals may have a bachelor's or associate's degree in nursing. Advanced public health nurses must have a graduate degree and pass an exam to qualify for employment.
Nurse Educator
In this position, nurses work in an educational setting to prepare students for clinicals and exams. Due to rapid growth in the field of nursing, the need for qualified nurse educators is continually on the rise. Nurse educators may also work in clinical settings, providing orientation and education for new nurses and certified nursing aides. To qualify for this position, candidates must be registered nurses. Additionally, many university and college level positions may require a master's degree in nursing.
Telemedicine Nurse
Telemedicine nurses work with remote patients via computers to provide care for individuals unable to commute to a clinic. These nurses provide monitoring for such patients via videos and should have an appreciable amount of prior experience in the nursing field. Those with experience in a home health setting are generally preferable. Telemedicine nurse candidates should also have a strong interest and aptitude in technology.
Nursing Informatics
These nurses work with health information systems to manage patient documents and details. Because hospitals and clinics are rapidly adopting new technology, the demand for informatics nurses is on the rise. In this role, nurses work to streamline technological processes so that more time may be devoted to hands-on patient care. To qualify for this position, candidates must have a bachelor's degree in nursing, hands-on experience in the field, and an informatics nursing certificate.
For nurses seeking alternative career paths, there are numerous options not strictly limited to patient care. Using the skills and knowledge acquired through years of study and practice, nurses looking for fulfillment in their careers may easily find it on any one of these alternate paths. Ardor Health Solutions can help by getting you in direct contact with hiring managers in search for nursing professionals with your skills! Contact us today at 855-GO-ARDOR to discover healthcare opportunities across the nation.