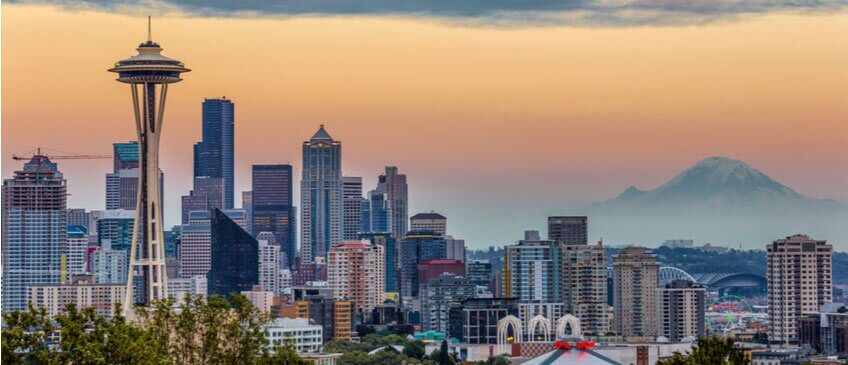 Top 5 Things to do in Seattle as a Travel Therapist
Travel therapy can be one of the most exciting and rewarding healthcare careers. You have the ability to travel to various parts of the country and work at many different healthcare facilities doing what you love. Seattle has quickly become a popular destination for travelers and easily one of the top cities to visit because of its many attractions. Is your next travel therapy assignment in Seattle? Make sure experience all of these attractions while you're there.
Harbor Cruise
What better way to experience a new waterfront city than enjoying a relaxing cruise? This one-hour narrated cruise will provide you with incomparable views of the Olympic Mountains and Puget Sound. Take out your camera and catch snapshots of the local wildlife like the California sea lions and harbor seals. A peaceful cruise can be exactly what you need to get acclimated to a new environment.
Space Needle
You can't visit Seattle and not venture to the top of the Space Needle. Enjoy a panoramic view of the city from 520 feet up and take in the breathtaking view of this unique city. Put the camera down for a while and savor some fine dining at the Sky City Restaurant. No experience will compare to your trip to the Space Needle while on assignment as a travel therapist.
Museum of History & Industry
The Museum of History & Industry is a must-visit attraction in Seattle. The museum holds documents, structures, and exhibits which detail the history of the city and the role it served in American History. Learn about the culture of your new temporary home with a fun trip to the museum.
Chihuly Garden & Glass
Dale Chihuly is a world-renowned glass artist whose work is displayed in over 200 museums worldwide. This 4,500 feet glass and steel structure known as the Glasshouse encases some of his best work and is only steps away from the Space Needle. You can even take a step outside and go for a stroll through the botanical garden which also doubles as an exhibit of Mr. Chihuly's immaculate creations.
Pacific Science Center
Do your adventures as a travel therapist include children? They will love the Pacific Science Center. The beautifully designed center allows children to fully immerse themselves in the latest technologies while expanding their math and science skills. There is also a massive IMAX theatre that climbs 6 stories high and with 12,000 watts of surround sound.
Travel therapy is one of the most rewarding careers as it allows you to travel to foreign destinations while utilizing your skills to help people across the country. Are you interested in a career in travel therapy, but do not know where to start? Ardor Health Solutions is a healthcare staffing company that provides skilled nurses with travel therapy opportunities nationwide. Visit our job listings page for a full outline of healthcare opportunities across the country.